Compelling Speaker
Barbara Pyper is a sought after and compelling speaker. She has presented keynote presentations at both the Academy of Nutrition and Dietetics' Food & Nutrition Conference & Expo™ (FNCE®) and the School Nutrition Association's Annual National Conference (ANC), as well as other national and state leadership conferences.
Barbara w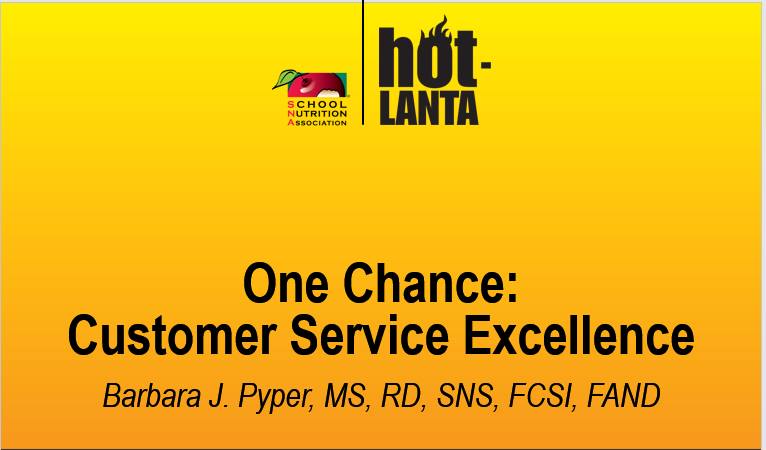 elcomes the opportunity to speak on a variety of topics, including:
Food safety - meeting regulation requirements, HACCP and employee compliance
Menu strategies for success
Program development - making food fun, interesting - and (most importantly) delicious
Marketing - creating effective programs and strategies
Customer service - exceeding customer expectations
Management and leadership
Operational improvement
Most recently, Barbara spoke about customer service at the 2017 ANC.
---
Sample presentation titles:

Marketing/Operational Improvement:
The Not-So-Terrible "To Do's:" Taking Program Marketing to a New Level
Thinking Outside the Box: Program Updates and Strategies
Food Allergies: What You Need to Know

Nutrition:
Nutrition Education: Tips and Tricks for Engaging Staff
The New Dietary Guidelines and MyPlate: Impact and Influence on Foodservice
Vegetarian Meals: A New Perspective

Food Safety:
HACCP: Translating Theory into Practice
HACCP: A Practical and Outcome-Based Approach
Food Safety Update: An Operator's Guide to SUccess
The 10 Essentials of Food Safety

Management/Leadership:
Managing Your Boss: Tips, Tricks and Techniques for Success
New Construction and Facility Renovation: A Roadmap for Success